Calendar sheets for UK tax collector's £ 7bn IT supply • The Register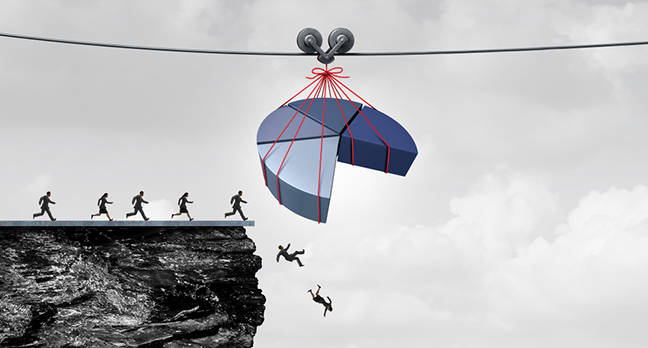 Documents released by Her Majesty's Revenue & Customs (HMRC) suggest its £ 7.1 billion replenishment in IT spending is on the decline, according to a timeline set by UK.gov's big projects watchdog.
The UK tax collector's tech procurement update is part of the tech procurement scheme, which aims to cover an annual IT budget of £ 900million. It started in September of last year with early market engagement to talk to suppliers.
In July 2021, the Infrastructure and Projects Authority (IPA), which depends on the Cabinet Office and the Treasury, evaluated the project as "orange" on its risk scale, noting that "HMRC faces a contract deadline combined with the need to rebalance control over its digital and technological capabilities" regarding contracts due to expire in June next year .
In data released with its annual report, the IPA said that "all remaining markets relating to the June 2022 deadline will be launched within the next six months."
The spreadsheet was dated March 31, 2021, suggesting that the IAP expected government procurement to be launched by the end of September. But at least two of the procurement streams missed this deadline.
HMRC said The register all the "cliffs" calls for tenders were launched before the end of September with the exception of two. Data and analysis 2 was published on November 5 and is part of the £ 2 billion government procurement for 'Big Data & Analytics', which kicked off an early market engagement in September. The HRCC is designated as "key stakeholder" in the framework.
The tender for Crown Run Hosting was published on October 19, also past the IPA deadline.
HRMC insisted that despite the delay in both purchases, the process of transitioning to the new contract was on track to be completed by the end of June 2022. "We remain very focused on meeting the June deadline. 2022, "said a spokesperson.
Meanwhile, recent information released to suppliers through TechUK – a UK body of technology providers – suggests that two other parts of the procurement had not issued tenders before the IPA deadline.
In November, an event for "Post-Covid Recovery and SR21 New Construction Activity and Automation Delivery Procurement"said a tender would be in place by December 6, 2021.
A similar TechUK event for HMRC IT Strategy and Architecture held in October said the call for tenders would be released by Nov. 11.
2021 New Build Digital Delivery Centers COVID Expense Recovery and Review Presentation Says Plan is to Replace "Contract in Place Ending June 2022" with a Contract Start Date of July 1, 2022 .
Meanwhile, the intention is to have a new contract in place for "IT strategy and architecture" by April 2022 – leaving time to hand over to the new vendor by the end of June. 2022. This strongly suggests that both strands are part of the IPA's idea of ​​a procurement "for the June 2022 deadline".
HMRC argued that these two procurement streams are not in the "state of transition" which has a deadline of June 2022, therefore claims that it is not late in issuing tenders. according to the schedule of the IPA.
A spokesperson said they were not tied to any existing live services, but if he needs the new services before the supply ends, he can create them under existing contracts that end. in June 2022. "For this reason, we have chosen to align this supply with the deadline of June 2022", he declared.
"Through our Technology Procurement Program (TSP), HMRC's goal is to gain more control over its IT strategy, management and delivery. To help HMRC prepare for this, new contracts, unrelated to those we need to replace by June 2022, will be brought to market. None of the June 2022 expiry contracts are extended, they are put back to competition in new service-oriented contracts ", did he declare.
He said the TSP is a five-year program that "would radically transform the way HMRC works with IT partners. It has been broken down into separate phases, defined as" transition states. "About 75% of its IT contracts current in value.
The "cliff edge" is linked to existing contracts which are to be replaced with new ones by the end of June 2022. All purchases will be completed in time for the required transition states, he said.
"The state of transition of June 2022 is about both renewing the cliffs edge contracts and preparing our IT organization to strengthen the way we work with our partners," a spokesperson told us.
Regardless, the timeline has slipped for at least two of the procurement streams.
A little slip up may seem like just a bump in the road between friends like HMRC and the IT vendor community if it weren't for the fact that the road already traveled was strewn with pitfalls.
In 2016, HMRC set out to replace its £ 10 billion Aspire IT contract with Capgemini and Fujitsu through a market that should appeal to small and medium-sized businesses, as well as large vendors, in a transition that would be risky. .
The department had previously said it would save £ 200million by renegotiating its Aspire outsourcing contract from 2012 in the age of austerity.
But in 2017, the ministry was forced to defend its decision to ditch a UK cloud provider in favor of the tax-advantaged multinational Amazon, saying it would achieve significant savings. El Reg revealed that HMRC had moved its data from a Manchester-based data center six months earlier.
Although the Aspire deal, launched in 2004, has been reconfigured, HMRC's relationship with the two main contractors has not ended. It granted Capgemini an extension until 2022. And this month, Fujitsu won a two-year extension to its managed office services contract, also until 2022.
Although the Aspire project's price-performance ratio has been criticized, it has been seen by some to be effective. The same cannot be said of its predecessor. In 2005, EDS, now part of DXC, paid £ 71.25million to settle its dispute with HMRC over the disastrous tax credit system, which overpaid poor families to the tune of £ 1 billion. pound sterling.
The main "cliff edge" in procurement comes at a time of personnel change within HMRC's advanced technical team. Tom Skalycz, chief technology officer, joined HMRC this month, after serving as chief enterprise architect at aerospace company Thales.
Daljit Rehal, head of digital and information at HMRC, has been in place for a little over a year. A press release Announcing his appointment, said he has extensive experience with big data, artificial intelligence and machine learning, as well as agile methods. It's fair to imagine that he might need all the agility he can show in his next conversation with the infrastructure and projects authority. ®